Workwear for your business, workplace or for the home LBrador have everything you need – Hi-Viz clothing, rainwear, winterwear, shirts, tops, headwear and trousers that are designed to work! The secret to LBrador's success has been a design style that is fashionable but practical and good looking. No nonsense just sensible work clothes with a little style thrown in.
Whether you need carpenters style work trousers with hanging pockets and loops or standard industry trousers with or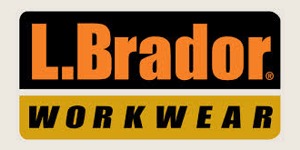 without leg pockets, if you want blue denim work trousers or water proof winter or rain trousers, whether you need 100% cotton or a polyester/cotton mix the new L.Brador workwear range covers all the most popular styles and types of work trousers. Add in two new ranges of overalls and a range of high visibility trousers and almost all the options are covered – certainly all the most popular styles and colours are covered.
The latest range is stylish and continues the L.Brador tradition of quality and comfort with a good fit – a new innovation being a 5cm turn up facility so that stockists can stock less items but give a wider choice of inside leg sizes while the end user can have a pair of trousers or overalls that can be easily adjusted to the correct leg size.
Stay Warm And Dry In Style
With fleeces, soft shell jackets, winter jackets and rain proof coats L.Brador has most options covered in different colours and high visibility but two new additions that are attracting some attention are the new 526P body warmer and the 658PB and 660PB hoodies.
Take a look through the L.Brador range at Dan Mulcahy Motor Factors in Newcastle West, there are many new items creating a range that is comprehensive but uncomplicated making it easier to choose the right clothing in the right material and the right colour and size.
Drop in to our shop in Station Road (Foynes Road by-pass), Newcastle West, Co Limerick
We're open Monday to Friday 9am to 5pm
Saturday from 9am to 5pm
Open during lunch
For more information on the L.Brador range of work-wear, complete the inquiry form below for a quick email response or call us at 069-61366